With unmatched precision, speed and versatility ERAVAP has always been the vapor pressure tester covering the widest temperature range from -20 °C to 120 °C (4 °F to 248 °F) on the market.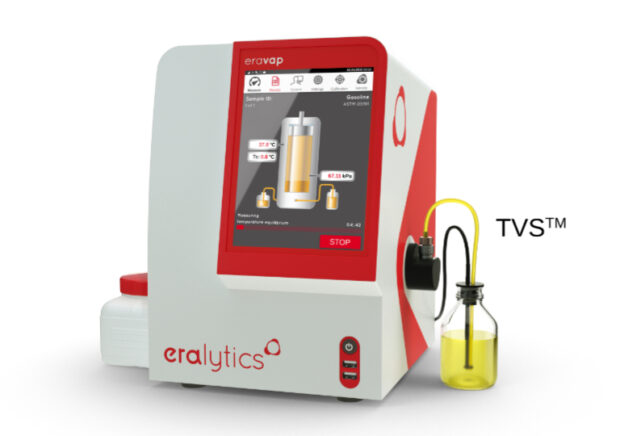 Another great feature (patent pending) for the vapor pressure tester ERAVAP is the TVS™ – D5191 Temperature Verification Sensor for high precision vapor pressure testing of gasoline. This new temperature sensor allows easiest monitoring of the temperature directly in the sample container, thus featuring an immediate check of the sample preparation even before the actual measurement starts.
TVS™ – D5191 Temperature Verification Sensor  enables the specification of upper (and lower) temperature limits triggering an automatic warning if the sample temperature does not match the requirements. Thus the TVS™ is a very efficient tool helping you to save time and money for many reasons:
IMPROVED QUALITY CONTROL
Especially when measuring quality control samples, accumulated results outside the tolerance limits will cause the instrument to be unnecessarily re-calibrated. TVS™ is a perfect tool to further improve the quality control in your testing lab.
INCREASED RELIABILITY
TVS™ facilitates complying with vapor pressure limits in fuel specifications. Especially for gasoline blending applications, it reduces the risk of exceeding these vapor pressure limits as the bias can reach up to 3 kPa (0.44 psi).
IMPROVED REPRODUCIBILITY
Easy comparison of obtained results throughout the entire process chain.
The measured sample temperature is stored in the result files for a convenient later review or data output via LIMS or printer.
Download Application Report
For more information please download our new application report TVS™- D5191 Temperature Verification Sensor >>
Next to this invention, ERAVAP offers many more great features:
ERAVAPs' unique quality control mode (ASTM D6299) ensures most accurate results at all times and even more operator convenience. To perform efficient quality control, the user can set individual warning levels to each QC sample. If measuring results fall outside defined limits a warning is automatically displayed.
Due to its portability ERAVAP is very successfully used in mobile laboratories around the world. It even stays portable with the directly attached 10-position autosampler for maximum sample throughput. An easy removable housing allows fast access for calibration purposes without dismantling the instrument.
ERAVAP is your analyzer of choice for specifying the vapor pressure of fuels, quality control of refining streams, fuel blending and research or mobile applications always compliant with the latest international standards. It is suitable for numerous sample types like gasoline, hydrocarbon solvents, LPG, crude oil, jet fuel and solvents. And all this with only one single, portable analyzer.
Interested to learn more?
Please contact office@eralytics.com – we are happy to answer all your questions.