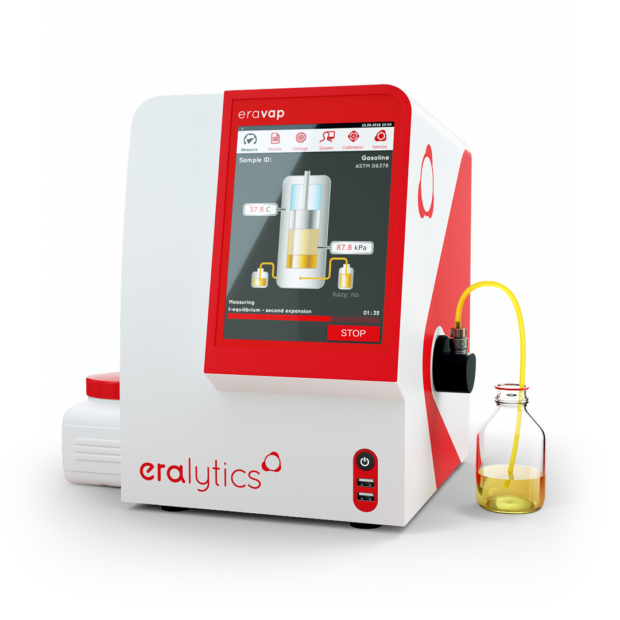 The next generation of eralytics' vapor pressure testers was just released. It features the new eralytics' instrument platform offering even easier operation. This new platform stands out with two front USB connectors further speeding up data download from the instrument. They larger 8-inch touch screen lets you scroll through your data like you are used from your smartphone.
For standard vapor pressure tests of all kinds of fuels, solvents and crude oils with maximum accuracy we offer the model ERAVAP EV10. This instrument is equipped with a high-precision pressure transducer, which guarantees long-term stability and best-in-class repeatability (0.15 kPa for pure solvents at 37.8°C) in the pressure range of up to 10 bar (1000 kPa).
For the measurement of high-pressure LPG samples eralytics offers the extended pressure range model ERAVAP EV20, which allows vapor pressure tests at up to 20 bar (2000 kPa).
Both models are available as all-in-one solutions equipped with a built-in shaker motor. They provide fully automated vapor pressure testing of gasoline, crude oil and LPG according to the latest international standards such as ASTM D5188, D5191, D6377, D6378, D6897, EN13016 1+2, etc.
Additionally ERAVAP's capabilities can be extended with eralytics' unique special application modules:
Low VP Module for the measurement of e.g. chemicals with vapor pressures as low as 0.1 kPa within an extended measuring range of -100 to 300°C.
High Viscosity Module with heating for the inlet and outlet of the analyzer up to 70 °C to allow measuring of e.g. crude oil samples with an extremely high viscosity at ambient temperature.
Low Temperature Module to perform vapor pressure measurements of e.g. gasoline samples down to -20°C (-4°F)
With all the above features eralytics' new generation vapor pressure tester family remains the most comprehensive one on the market, tying in with our motto: ERAVAP – Vapor Pressure Testing at its Best.